Product Information
Lineup
Saddle stitch book binding machine line.
OSAKO original options and peripheral equipment.
Infix Binding Machine

Tener Alpha
High-end saddle stitching machine with advanced productivity and automation feature. Ultra-high speed saddle stitching machine line.

Tener is a high-end saddle sticher that improves bookbinding efficiency by enhancing inspection equipment and automation with additional expanded value as a bookbinding machine for the next-generation of bookbinding.

368
OSAKO's long-selling product boasts stable workability and high productivity at high-speed rotation.

OSAKO's flagship model boasts high-speed, stable workability and high production performance.
Made with an emphasis on safety and ease of use, preparations and switching can be done quickly as the size of the signature changes. The fact that we have continued to innovate for 30 years is proof of a reliable machine.

Estar
Automation, productivity, and cost performance triple-feature.
Middle class saddle stitching machine. High-speed saddle stitching machine line.

A middle-end saddle stitcher line that bridges the gap between Tener Alpha and 368.
It combines OSAKO's "generality," "ease of use," "price," and "reliability."
Estar is a saddle stitching book binding line developed based on these four concepts.
OSAKO Original

High-speed three knife trimmer with OTF type automatic paper feed
Cuts three sides of signature of either saddle stitch or perfect binding.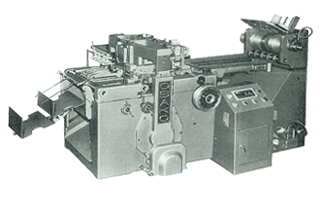 If you have limited floor space for installation, it might be difficult to make the full layout with the saddle sticher line + three-knife trimmer.
In that case, it is possible to separate the three-knife trimmer unit and the paper reject device (conveyor) from the saddle stitcher line and arrange them independently.
This three-knife trimmer (product name: OTF) is equipped with a feeder by which the sigatures are fed one by one at high speed, and can cut stacked books accurately and precisely. The advantage of this product is that it can cut more efficiently, faster and more accurately than a cutting machine for perfect binding that generally cuts multiple pieces together in a stack.
It also has the advantage of being able to cut bound signatures regardless of whether it is saddle stitch or perfect binding.

ORC-310A model folder feeder (with a press roller)
Folds thicker paper tightly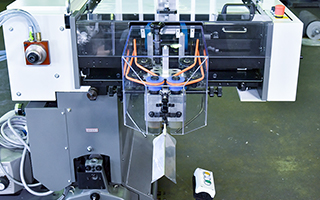 A folder feeder machine that can fold thicker paper firmly by adding it to the standard folding device.
The folding thickness can be adjusted easily.

Device cutter
Cutter for preventing backlash due to the thickness of the signature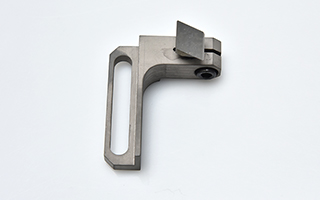 Peeling and tearing can be prevented by installing a device cutter in order to not impair the commercial value.
(Compatible with OT-2000 and OT-327)